About Veitenhans & Sons Construction
Veitenhans & Sons Construction is a small custom home builder, specializing in custom homes, additions and remodels. As we are a local, family run business, you'll work directly with Kevin Veitenhans, president and owner. Kevin personally takes your phone calls, and meets with customers to discuss and address their needs during and after completion of your project.
Kevin's close communication and hands-on approach ensures that the highest level of quality is always met. As a result, our customers always pay us the highest compliments.
We understand the difficulty in choosing a general contractor. The choices are endless. We work with you to provide as much information as you need to help make your decision. We welcome all challenges.
Call today for a free consultation.
253-377-6630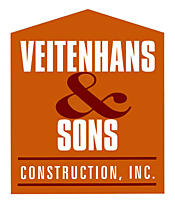 Gig Harbor, WA
253-377-6630