"This is a hearty thank you for my new home on Stretch Island. A wonderful home that captures the essence of my 'dream house'. This home building project was a challenge due to its size and zoning limitations. Adding the necessity for the massive earth-retaining wall created some challenges that you faced head-on. The finished product captured my needs and desires. I've recommended you to friends for their construction and home builder needs, and will continue to do so due to your professionalism, including your integrity and superb customer service. It is my opinion that you offer an extremely fine service and product for a very fair price."
-- W. G., Mason County
Welcome to Veitenhans & Sons Construction
The Veitenhans name has been part of the Gig Harbor and Tacoma, Washington communities for nearly 100 years. Veitenhans & Sons Construction and home builders has the responsibility to ensure our name continues to represent a reputation for quality, pride, workmanship and value. We plan on being part of our community for another 100 years!
Veitenhans & Sons Construction and Gig Harbor and Tacoma home builders wants to make sure the home we build for you is to your specifications and exceeds your expectations. We want you to take pride in your new home, just as we take pride in building it. We take no project for granted, and appreciate the opportunity to be part of your dream.
We would be glad to meet with you and have you tour some of our projects.
Call today for a free consultation.
253-377-6630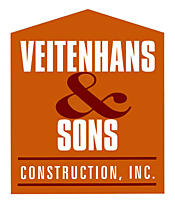 Veitenhans & Sons, Construction, Home Builders, Custom Homes & Remodels
Gig Harbor, WA
253-377-6630